It may be because I'm 30 and can't eat whatever I want anymore, or maybe it's just that having a kid makes you more responsible, but we really need to eat better.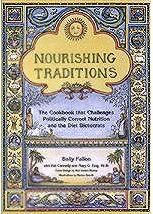 I've been hearing about the book Nourishing Traditions for a while. It's a cookbook packed with instruction on eating traditional, whole foods and avoiding refined grains and sugars. I finally got a copy from the library. There's a lot of information in here — I think I might need my own copy so I can highlight and write in it.
My usual strategy is to stick with foods that have as little processing as possible. Doug can't have dairy, so we avoid most packaged foods. We eat a lot of foods that are in their most basic form like eggs and bananas, and we drink a lot of smoothies. This suits me pretty well, because I can be a lazy cook. We don't eat fast food, and we pretty much avoid anything hydrogenated.
At the same time, though, I eat a lot of things that I shouldn't, like bread with white flour and this Dr Pepper habit that I'm trying to kick. If I go to the trouble to cook, I usually care more about what it tastes like over the nutritional value.
Nourishing Traditions gives recipes chosen for both health and taste. Most of the dishes require planning in advance. It's not a "dinner in 30 minutes" book, it's the kind of book that recommends cod liver oil taken daily. It even has whole sections devoted to the benefits and preparation of cultured and fermented foods, which you don't find very often.
I'm willing to give it a try. I'll let you know how it goes.