Several months ago I decided I was going to be more natural with my hair products. Since then I have tried several different approaches, some of which failed miserably, and some which actually worked. I thought I'd share for those who are hopefully/fearfully venturing away from traditional shampoo with sodium lauryl (or laureth) sulfate.
My vanity and Southern sense of desiring my hair to look "fixed" makes me think twice about posting pictures, but I'll do it so you can have a point of reference about my hair type. It's wavy with some texture and average thickness. I like how it looks when it dries curly, but by mid-afternoon it starts to look crazy, so I usually brush it out straight. I took this picture eight months ago when I first stopped using shampoo and started trying "natural hair".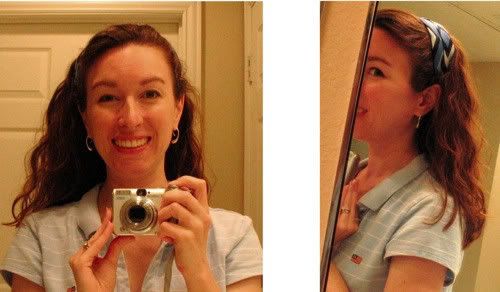 Ingredients in my bathroom:
Apple cider vinegar – Some people rave of the results when they use an apple cider vinegar rinse, but I am not one of those people. It leaves my wavy hair feeling dry and not soft at all. Perhaps it depends on hair texture. To try it, you dilute a tablespoon or two of apple cider vinegar with a couple of cups of warm water, and pour it over your hair as a rinse.
Baking soda – Best ever. I can't believe the many talents of baking soda. When I went completely shampoo-free, I mixed a tablespoon of baking soda with a cup of warm water in a water bottle, and massaged it over the scalp. It did work, but it also left a residue after a couple of weeks. I have better success when I mix baking soda with a mild baby shampoo or conditioner, so that it rinses out.
Jojoba oil – great for a hot oil treatment.
Apricot kernel oil – I use this daily as a leave-in conditioner. I put two or three drops on the ends of my damp hair and leave it in. This dropper vial from The Container Store helps to dispense the right amount. Bonus! Apricot kernel oil can also be used as a salad dressing.
Aloe vera – use as a hair gel, and apply on damp hair. It does have pretty good hold, but I am not very partial to hair gel in general.
Cornstarch – can absorb extra oil on your scalp if you sprinkle on a little bit and brush it through your hair. I never feel satisfied after trying this — I always want to go back and wash my hair.
Olive oil – It seemed like a good idea at the time to spritz olive oil on my hair, but it was way too oily.
Honey – I heard that a tablespoon of honey mixed with a few cups of warm water would soften and condition hair when poured over as a final rinse, but I couldn't really tell if it worked. It was no match for the drying effects of the apple cider vinegar.
Mayo – really hard to rinse out. Not sure it's worth it.
Brown sugar – mix one or two tablespoons of real brown sugar with some conditioner and rub it on your scalp to exfoliate and invigorate. It feels great! I learned this from Crystal, and if you know her, she's probably convinced you to try this too.
Rosemary essential oil – When I used regular shampoo, my hair was oily. The more shampoo I used, the more oily and flaky my hair became, because it was overproducing to compensate for all of the detergents in the shampoo. I decided to try something different, so I mixed 2 drops of rosemary essential oil with 10 drops of apricot kernel oil, and rubbed it directly on my scalp. I left it on overnight and shampooed it out the next day. I know it sounds nuts, but it actually worked, and my hair hasn't been that oily since then.
What I haven't tried:
Avocado – I can't bring myself to spend one on my hair. I have to eat it.
Lemon – too many junior high memories of Sun-in streaks on my brown hair.