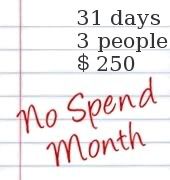 It's July 1st, and my debit card is in my dresser drawer instead of my wallet.  So begins the first day of No Spend Month.
The Challenge:    
Can our family of 3 spend less than $250 for 31 days?  Can we stop looking for things to buy to improve our home and lifestyle? 
The Purpose:   
To stretch ourselves to become more mindful and disciplined about the money we spend, and to save some extra money in the process.
The  Tradition:  
Last year I noticed that I was spending a lot of my time thinking about things I wanted to buy.  I didn't want to be like that, so I decided to stop buying anything for an entire month.  We spent less than $200 for all food, gas, and everything else during the month of July.  It wasn't easy, but we did it.  We saw such a great reward from it that we decided to make it an annual tradition for our family.  It's important to us.  This will be our 2nd Annual No Spend Month. 
The Details:
This month we have a total budget of $250 to spend on anything we would buy for ourselves. 
Included:

food & eating out
gas
clothing
coffee
household necessities
entertainment
Not included:
Tithes and other gifts.  
Rent, insurance, and bills. 
Health expenses. 
Work expenses.
Savings and investments.
The Habits:
It would defeat the purpose if we spent our time window shopping for things to buy as soon as the month is over.  I won't be checking out store displays, craigslist, eBay, or catalogs.  I won't be visiting blogs that feature more things I could buy.  I'll be making dinner at home.  I'll be finding things to do for free.  I'll be freeing up my time to use for something else.
I'll admit it, I'm nervous this time.  I know it's good, but it could be hard.
31 days…
Updates!
Related Posts:
Don't miss what's coming next! Subscribe to Small Notebook's RSS feed.