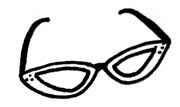 I've been thinking lately about the importance of preparation.                         

Not just making plans or lengthening my future project list, but taking action to be organized and ready for what comes next.
Preparation is key for me to stay organized.  It's like how my morning routine is easier, and my whole day goes better, when I start the night before.  My goal for August is to better prepare my family for everyday events and "what-if" emergencies. It's time to put these plans into action.
August is such a hot month, and I'm going to take advantage of every breakfast on the patio and lazy summer nap possible. But even though it feels like the heat will never end, I know September's not far away, and with it comes fuller days and more activities. I want to spend a few minutes each day in August taking simple steps to be more prepared and organized.
What will you do in August to prepare?
Create a daily routine?
Plan for school?
Make a menu plan?
Clean out clutter?
Get ready for a move?
Let's do it together! Send me an email or share in the comments what you are going to do in August to prepare. If you write a blog post about something you're doing, send me a link and tell me about it (but you don't need a blog to join in).
Are you ready? Let's get prepared!
p.s. feel free to copy and use these as you like –