In all the talk about handmade gifts, it's pretty clear that most of the gifts are for women and children.

If you're planning to make gifts for Christmas, I recommend you see the ideas at Almost Frugal for handmade gifts with ribbons, embroidery, and thread. (I love this embroidered scarf.)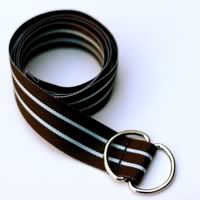 My idea this week is a gift that takes only a few minutes and is easy enough for kids to help you make: Ribbon Belts.
But let's be honest. Men don't want ribbon belts, or anything else ribboned, embroidered, or bedazzled. Men like gear: tools and electronics in particular.
Desiree asked,
"I am really wanting to do mostly homemade gifts this year. The girls on the list are easy but I am having a hard time with ideas for guys. I would love some ideas…"
I asked Doug to help me think of handmade gifts when "crafty" isn't a man's style. Here is what he came up with:
Food:
manly food like good quality beef jerkey
peanut brittle
chocolate chip cookies
and oh yes, pies
Handmade soap that won't dry his skin in the winter.
Something to keep his feet warm around the house.
One of Doug's favorite birthday gifts ever was a time we went to the grocery store together. No matter what he put in the shopping cart, all I was allowed to say was "Mmm, looks good!" and "That will be great!" His friends came with us for fun. I know that's not necessarily a homemade gift, but at least it wasn't clutter, and it was something I could do for him.
Tell us, are there any good handmade gifts for guys?