If you could come over and visit this morning, you'd get to see our Christmas decorations. And have some coffee. There's always coffee.
Hanging Christmas ornaments is one of our favorite traditions, but in our apartment there is absolutely no room for a tree. We do the next best thing: our collection is displayed on a garland over the fireplace. I love seeing them all together this way.
All of our Christmas decorations are stored in one blue box, and it's a fun event to unpack it each year.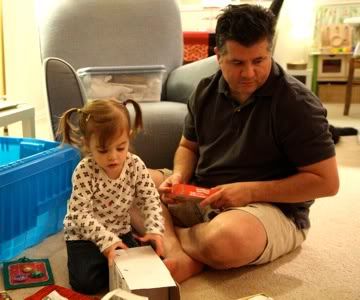 Because it's just one box, Doug is totally on board with helping to decorate.
So is Lane.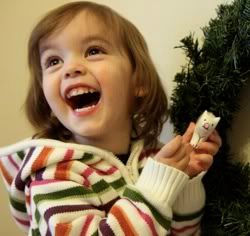 This year Doug took her shopping for an ornament to start her own collection.
We put a wreath in her room, and she hung her new little ornament on it.
We hope to add one more for her each year. She didn't seem to mind only having one ornament — she's frequently moving him from one branch to another.
Add a red table runner in the dining room and a red bow to the front door, and that's it!
I think this must be the year of the garland. Did you see all of the pretty photos at Nesting Place? So festive.