How do you capture those special holiday memories?
I try to take a lot of pictures, but I also keep a notebook just for Christmas.
This isn't one I use for planning or lists, it's an album the family can look through.
I try to keep it easy and simple, or else I wouldn't do it.
Each year I add one or two pages. I choose four to six photos, and I spend a few minutes writing about our favorite memories from that year's Christmas.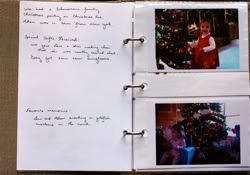 What might be included?
Where we lived and worked.
Fun events and parties.
Recipes to make again.
Special gifts given.
Favorite traditions started and kept.
Christmas trees and decorations.
Funny things said.
Who was there.
Places traveled.
Blessings counted.
I hope I get to look through it in fifty years and see how our family has grown and celebrated one of our favorite times of the year.
Dear friends, thank you so much for reading and sharing your ideas. I have so enjoyed reading your comments! I hope that you are able to find a few moments of peace this week.