I have come that they may have life, and have it to the full. – John 10:10 (NIV)
It may be because I'm 30 and can't eat whatever I want anymore, or maybe it's just that having a kid makes you more responsible, but we really need to eat better.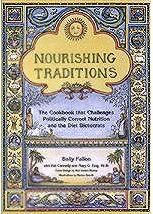 I've been hearing about the book Nourishing Traditions for a while. It's a cookbook packed with instruction on eating traditional, whole foods and avoiding refined grains and sugars. I finally got a copy from the library. There's a lot of information in here — I think I might need my own copy so I can highlight and write in it.
My usual strategy is to stick with foods that have as little processing as possible. Doug can't have dairy, so we avoid most packaged foods. We eat a lot of foods that are in their most basic form like eggs and bananas, and we drink a lot of smoothies. This suits me pretty well, because I can be a lazy cook. We don't eat fast food, and we pretty much avoid anything hydrogenated.
At the same time, though, I eat a lot of things that I shouldn't, like bread with white flour and this Dr Pepper habit that I'm trying to kick. If I go to the trouble to cook, I usually care more about what it tastes like over the nutritional value.
Nourishing Traditions gives recipes chosen for both health and taste. Most of the dishes require planning in advance. It's not a "dinner in 30 minutes" book, it's the kind of book that recommends cod liver oil taken daily. It even has whole sections devoted to the benefits and preparation of cultured and fermented foods, which you don't find very often.
I'm willing to give it a try. I'll let you know how it goes.
About two years ago my soon-to-be sister-in-law gave me a leather journal. I love notebooks, and this one was so nice that I was almost hesitant to write in it because I didn't want to mess it up. I kept it wrapped and waited to decide how to use it.
It sat on the shelf for a while, but I think I've finally decided. In my own handwriting, flaws and all, I'm going to make it a heritage journal. The idea is from a Bible study last fall. Joshua set up stones as a reminder of how God took care of his people, so that those stories would be passed to future generations.
My memory is terrible — how quickly we can forget! I can barely remember what I did yesterday. All those ways that God has protected and blessed me and Doug – those are the things I need to remember. In Judges 2:10 it says that "After a while the people of Joshua's generation died, and the next generation did not know the LORD or any of the things he had done for Israel." (CEV) How sad that is! I do not want that to happen to our kids. I know they will grow up and choose for themselves whether or not they will follow the Lord. I just want them to know specifically and clearly what Jesus has done for our family.
How he protected Lane during a complicated birth. 
The job Doug was blessed with so that I could stay home. 
The finances that are always more than we need. 
There are so many more instances. That's why we need to write them down, so we can remember them, and not forget.