A monogram gives a vintage look to your hand-sewn projects. Painting a monogram is an easy way to decorate your finished work, and it only takes a couple of minutes.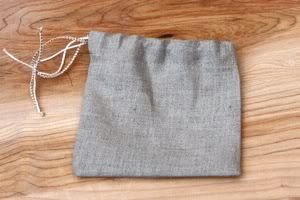 1. First I made a basic drawstring bag. I enclosed the seams using a french seam technique. This gives the bag a more finished look with no raw seams, so it won't need a lining.
2.  Place a piece of paper behind the material to prevent the paint from bleeding through.
3.   You could use any stencil, but this copper monogram stencil came from eBay. 
4.  Paint over the stencil. Acrylic paint works fine on most fabric, although it dries a little stiff by itself. To make it pliable and washable, mix textile medium into the paint.
5.  Lift the stencil off carefully and let it dry.
6. Voilà. (Or wa–la!)
Another idea:  use stamps and fabric ink to print designs on the material.